Infants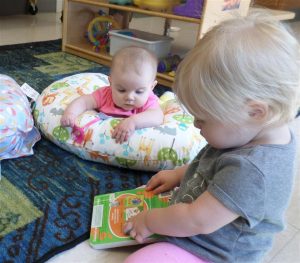 In our Infant program, love and security are our top priorities. Our Infant rooms are reminiscent of home; we offer a nurturing and individualized program for each child.
Their needs are attended to on their schedule. Everything is tailored to expanding their developing minds and bodies, and they are encouraged by our experienced, caring teachers to discover at their own pace.
Our teachers create individualized, developmental-based lesson plans using the Creative Curriculum for Infants, Toddlers and Twos©, and the Active Learning© series. We also incorporate sign language through Baby Sign Language©.
We know that you play the most important role in your baby's life, so we'll keep you informed by offering a personalized daily report and information about your baby's development.