Staff
We know that our staff are the reason we can provide quality care and education for your child. We strive to hire committed and caring individuals who want to create positive early learning environments for every child in their care.
Each school is led by a Center Director, who holds a degree in early childhood education and has prior childcare center management experience. S/he is responsible for monitoring all center operations, from enrollment and customer service to guiding teachers in best practices.
The Center Director is supported by two assistants, who lead the center in his or her absence:
The Assistant Director provides administrative support, and is often the first smiling face you will see when you visit our schools.

The Curriculum Specialist's primary responsibility is to assist the teachers in providing a nurturing and high quality classroom experience.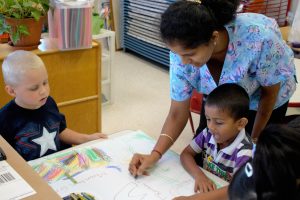 Our Lead Teachers meet or exceed requirements for early childhood in North Carolina; most hold an Associate's or Bachelor's degree in early childhood education. Our Teacher Assistants have earned at least the NC Early Childhood Credential, and many are working towards a degree.
All of our teachers participate in a detailed orientation during their first week of work. In addition to learning about Creative Schools' policies, each employee receives focused training on supervision, child abuse prevention, child care laws, the curriculum and classroom procedures. Staff are also required to complete CPR and First Aid certification, and teachers of infants complete ITS-SIDS training. Creative Schools provides multiple training opportunities throughout the year to ensure that our staff have access to up-to-date information on child development.